Simon Reilly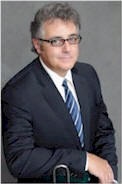 Simon is an expert Speaker, Writer and Financial Advisor Business Coach with 20 years of experience in coaching, consulting, facilitating and training that includes a decade of experience working exclusively with Financial Advisors and their teams to help them inspire action and achieve sustainable results.
Simon speaks nationally at private company events that include FM Financial, Freedom 55 Financial & The Cooperators and he is considered to be one of the best speakers at Advocis and Pro-Seminar Events.
As a Values & Behaviors Analyst, Simon is able to quickly assess a clientís strength, areas to strengthen by identifying the blind spots that are limiting the clientís success, and provides sustainable systems to help his clients to meet and exceed their goals.
Simonís experience has developed through thousands of hours of working with Financial Advisors that include; Frank Allen, Nelson Deslippe, Diane Dupuis, & Thomas O'Neill Jr.
Simon has been featured on CTV National News and Global/BCTV News, and the CBC. He has been featured in Canadian Business, Profit Magazine, The Globe & Mail, The Vancouver Sun and The Province Newspapers.