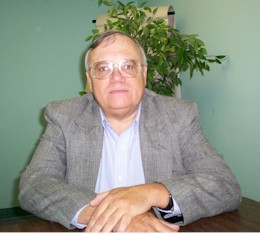 Mr. Michael Danks Sr. graduated from high school with a Grade 12 Arts and Science Diploma.
His determination to move up the corporate ladder was evident even from his early days as he worked part time at Cantebury Foods Limited from 1965-1969 while still in high school. While there, he progressed from stock boy to Supervisor overseeing the daily work load.
From 1969-1972 he began his financial services career with the National Life Assurance Company of Canada. He started as a Stock Clerk and within a very short time he was the #1 Accounting Clerk.
Some of Mike's accomplishments while at NALACO:
· Developed an individual two-week Management Orientation Program.
· Prepared and delivered eight programs to New Management Personnel
· Developed a six day Management Orientation Program for
· NALACO's Management Development Branch Trainees.
· Prepared and delivered the program.
· Developed and delivered the program of a one week Agent's Training
· School.
· Created and developed sales material and programs for agents.
He then spent a short time at Co-Operators Insurance Company (1972-1973) as an Inside Automobile Claims Adjuster.
He then went back to North American Life Assurance Company in 1973 where he stayed until 1975. He started there again as a Marketing Trainee and eventually held the position of Training Assistant responsible for educating the field force.
In 1975 Mike was then offered a position with Commercial Life Assurance Company of Canada where he stayed until 1981. With Commercial, he moved up the ranks from Supervisor of Field Training, Manager of Marketing Development to eventually Superintendent of Training and Recruiting where he remained until he left.
Some of Mike's accomplishments while at Commercial Life:
· Designed a complete basic to intermediate training program for General agents.
· He oversaw the licensing of over 50 agents, training and introducing them to the industry.
· He developed and delivered an in-field Basic Sales Course.
· Mike managed a branch for Commercial Life, which was 25% over objective in 1977 and ended up 50% over objective in 1978.
· He then developed a Management Orientation program for the company.
· He developed and delivered over 50 sessions of a Training Program for Managers.
· He developed and worked a successful marketing system for Multi Line Agencies where there were over 100 agencies present.
· He developed and presented a Staff Orientation Program for Head Office Staff.
· He also trained and developed general agencies right across Canada from 1978-1981.
· He created and developed all sales material used in all the above training programs.
In 1978 while still with Commercial Life, Mike co-founded Pine Ridge Insurance Brokers Limited and was instrumental behind the scenes of the day to day operation. He and his partner started Pine Ridge with the intent of building a full line General Insurance empire. Mike and his partner succeeded as this company grew to 4 offices in Ontario.
Although Mike had co founded Pine Ridge Insurance Brokers, he really did not have the management experience that is necessary in the General Insurance field, so in 1981 Michael accepted a position with Vick Insurance Brokers based out of Whitby, ON, where he learned first hand how to run and manage a brokerage operation. He stayed with this firm until 1982.
In 1982 Mr. Danks was appointed Ontario Co-Ordinator for the Chamber of Commerce Group Insurance Program. Through his determination and hard work, he developed the Chamber to the point where it generated in excess of $2,000,000 of premium in over 60 Chambers.
He then went on to start still another company. Insurance Town Insurance Brokers Limited opened its doors in 1982. A division of that company, ITI Group Marketing was started to manage the Ontario Chamber of Commerce Group Plan in Ontario. Again Mike built the premium from scratch in 1982 to over $25,000,000. By 1985 he had added over 200 chambers and recruited and trained over 100 Insurance brokers.
In 1990 Mike founded Countrywide Insurance Group to manage the Association
Group Insurance plans in Canada. Through this company, he built and developed the Better Business Bureau group plans in Ontario (London, Kitchener & Toronto).
He also began the Canadian Furniture Association group plan.
Mike has continued to build his business empire by starting the following:
· Co-Founded Soho Travel Corporation, a travel business that specializes in high end travel for small business owners.
· Colmic Farms, a division of Colmic Investment Limited. This is a HOLCO whose assets include small commercial buildings and farms
· Founded The Innovative Business Club, a division of the Innovative Business Network International Inc. This company is a web based business that provides networking, educational business opportunities and services to an association of International business owners.
Mike is a believer in continuing one's education if you want to be successful in business and your profession.
This is evident by the following designations that Mike has successfully completed throughout the years:
· Chartered Life Underwriter attained in 1976
· Associate of Insurance Institute of Canada attained in 1980
While at Ryerson College, Mike completed the following Marketing Management Certificate courses:
· Industrial and Consumer marketing
· Marketing Management
· International Marketing
· Marketing Research
· Salesmanship
· Sales Management
· Advertising
In addition to the above, Mike has also completed many LOMA courses.
These consisted of Principals of Insurance - Part 1, Principals of Insurance - Part 2,
Law - Part 3, Accounting - Part 4, Investments - Part 5, Agency - Part 7,
Management – Part 8, and Personnel - Part 8
Some of Mike's other education that he has taken along his journey:
· Completed Training and Developing Personnel Course at the University of Toronto.
· Completed an Instructional Technique Workshop from Cantra Training Ltd.
· Completed the Life Underwriters Association Training Course.
· Completed the Research and Review Business Insurance Course.
· Completed a two week Basic Adjusters Training Program.
· Completed LIMRA's Management Orientation Study Course.
· Completed LIMRA's one week Sales Management Course.
· Completed Certified Employee Benefits Program at Humber College.
Mike's involvement in the community:
· Past President of the Ajax Jaycees
· Past President of Duffin's Bay Home and School Association
· Past President of Ajax-Pickering Board of Trade
· Past Vice-President of Scarborough Chamber of Commerce
· Past Executive Councilor of the Ontario Chamber of Commerce
· Director of the Innovative Business Club
· Past Chair of the Ajax Home Week 2000
· Founding President of the Durham Rotary Club 2003
Some of Mike's other passions
· Buys and sells investment real estate in Ontario & Florida.
· Farms 600 acres of land in Prince Edward County.
· Has spoken at many industry events across Canada.
· Has spoken at more than 40 Pro-Seminars.
· He is the recent author of "Selling Group Insurance to Small Business Ain't Brain Surgery" which is well on its way to be a best seller.
· He was showcased in the Investment Executive in January 2005.
On a personal note:
Mike is married to Colleen for over 38 years. Together they have six children, and three of them work in their various businesses. Mike and Colleen are the proud grandparents of six grandchildren.
His passion is helping new insurance advisors / brokers and rejuvenating experienced insurance brokers to discover their excitement of insurance and build a business and not a practice.
He has a marketing system that works and he wants to develop "Business Insurance Specialists."
MIKE SPEAKING TOPICS
Selling Group Insurance to Small Business Ain't Brain Surgery
Mike has recently published a book called "Selling Group Insurance to Small Business Ain't Brain Surgery."
This talk will visit just how easy it is to market Group Insurance (Employee Insurance) to all the companies that you thought you couldn't. Mike truly has developed a simple system that works, if it is followed.
This presentation will also address the following issues:
· Why business owners buy.
· Get them to call you.
· What to do when they call.
· What they want to buy.
· The 11 ½ minute interview.
Can you afford your group insurance?
This presentation covers all of the following and more…
· Do your employees see group insurance as a deduction or an incentive?
· Group insurance today is 6% of gross income of a business. Five years ago it was 2%. What has contributed to this increase?
· Are your employees' part of the problem or part of the solution?
Employer friendly group insurance. How do you put this plan together?
For booking engagements contact Tom Miller, President, Pro-Seminars @ 877 524-7121 or e mail




203-4438 Ontario Street

Beamsville, ON L3J 0A4

Toll Free Phone 877 524-7121 Toll Free Fax 866 277-4511





Click here for questions, comments, suggestions or to receive seminar notifications.

This web site Copyright © Pro-Seminars (2020) Ltd.







E mail Pro-Seminars Privacy Statement