Mr. Klint Rodgers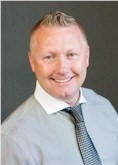 Klint was born and raised in Vancouver, BC. A serial entrepreneur, having owned and operated half a dozen or so businesses right out of college. At a young age, Klint quickly realized real estate was where his passions lied and eventually went on to supplement his self-employed income through the purchase and sale of many personal properties within Vancouver's lower mainland. In 1998, while at college for the 2nd time, Klint met his future wife and ended up getting married in Seoul, South Korea in April of 2000. Today, Klint is the proud father of a 16-year-old daughter and has since been married for 23 years.
With his family's future in his hands, he went on to become a Registered Dealing Representative in the Exempt Market in 2011 and has not looked back. Klint has become one of the Top Producers in the Country representing 12-15 plus Private Equity & Private Real Estate Investment Firms at any given time, presently holding licenses in BC, AB. SK & ON with the securities commission and proudly partnered with the Exempt Market Dealership, Axcess Capital Advisors. Klint is also the National Team Lead and a Branch Administrator at Axcess Capital, as well as the CEO and Co-Founder of Canvest Financial. Klint has been recognized three times now by Wealth Professionals Magazine as a Finalist for Best Advisor in the Alternative Investments sector.
Klint likes to take a European multi-family office approach with his business, by standing side by side with his clients, to help them build a team of professionals whether they be in the Private, Public, Insurance, Accounting or Legal profession. It is this client first approach, that has allowed Klint to build a successful investment practice and become very well-known across the country by his peers in the private (exempt) markets and beyond. Klint also sits or has sat on several Advisory Boards, including with the BC Chapter for the Private Capital Markets Association (PCMA), Big Brothers of Greater Vancouver Charitable Gift Advisory Team and presently is an Advisor to the Board of Directors for the StoreWest Group of Companies and Cascadia Green REIT.
Klint also happens to be Dual Licensed as an Independent Insurance Advisor as well, thus helping his clients focus on numerous tax, estate and retirement planning strategies and solutions to better protect, preserve and grow one's wealth.
You will often hear Klint say, "KYP, KYP, KYP" which stands for Know Your Product and in following with this practice Klint continues to educate himself when not hanging out with his family; having passed the EMP (Exempt Market Products) Course in 2011, the Fundamentals of Alternative Investments Certificate Program, as well as the Charitable Giving Advisors Courses in 2015 and the Life Licensed Qualification Program (LLQP) in 2021 as well in an effort to better serve his friends, family and clients.
Warm Regards,
Klint Rodgers
National Team Lead
Registered Dealing Representative BC, AB, SK & ON

Mobile: 604-368-3454 / Klint.Rodgers@AxcessCapital.com