Michael T. Danks, CLU., AIIC
The Group Professor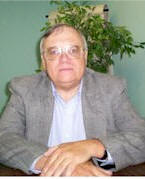 Mike Danks, "The Group Professor". The guy to call when you want a growing monthly income and unlimited prospects.
Mike Danks' first group was the association group plan for the Ajax-Pickering Chamber of Commerce in 1978. He went on to create the Chamber of Commerce Plans, implemented 202 of them in businesses across Ontario and helped grow the book to $25 million of annual premium before selling it to the Johnson Group. Mike also created and implemented the Ontario Better Business Bureau group plans.

He has recruited and trained more than 300 insurance brokers to sell group and access the lucrative business insurance market with it. Many of them qualified for MDRT on individual business from their group leads and built multi-million-dollar group premium businesses. Some are part of the "who's who" in the business today. He has worked with the likes of Ron Barbaro, Ben Feldman and John Ingle. Mike attained his CLU in 1976 and his AIIC in 1980.

Mike and his brokers continue to work his own association, "The Innovative Business Club Association" with their proprietary plan for entrepreneurs through his Third Party Administrator (TPA), Countrywide Insurance Group. This plan, with benefits down to one life, has become a great door opener for both group benefits and individual plans.

Mike built his business through the power of regular marketing and cold calls on business owners. He shows advisors how to leverage the small group market into big business insurance cases by getting out and making calls. His unique group sales process for business from 1 to 10 lives has been kick-starting business insurance careers for advisors for more than 40 years.