Qayam Lalji, BSc
Director of Sales iA Financial Group, Ontario Individual Life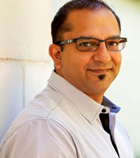 Qayam has been working in the insurance industry for over 21 years. He started with HB Group Insurance in 1997 after completing his BSc. in Mathematics and Economics.

In 2015 Qayam moved to iA as part of the Sales and Marketing Team as a Marketing Associate and now holds the role of Director of Sales, Ontario. His success is the result of a deep passion for protecting client's families, as well as their wealth and building strong relationships with the advisors he works with.

In his spare time Qayam enjoys playing soccer and hockey and most importantly, spending time with his family. He resides in downtown Toronto with his wife, Zubeen and two young children Ayanna and Qayz.