Chuck Ealey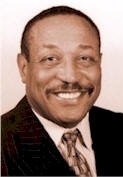 After completing an undefeated record in High School in Portsmouth Ohio, Chuck received a Football scholarship to University of Toledo. While getting his degree in Business Economics, Chuck, as Quarterback, led his UT Rockets to a record breaking 35—0 college record. He was 8th in the 1971 Heismann Trophy standings. Despite this record, Chuck was passed over by the NFL draft as Quarterback. Although offered other positions, Chuck remained committed to becoming a Professional Quarterback and chose to go to the CFL where the only thing that mattered was his ability. In 1972 he led the Hamilton Tigercats to a Grey Cup Championship, winning MVP as Quarterback. He also played for the Toronto Argonauts and the Winnipeg Blue Bombers, and played in the CFL for 7 years.
Following his athletic career, Chuck has become a successful and well respected manager within the financial services industry. Currently he is the Regional Director of Investors Group Financial Services in Mississauga Central. Chuck can also be seen on CP24 speaking on related financial topics and heard daily on Wave Radio 94.7. He is frequently asked to be a keynote speaker at corporate functions and sports events around the GTA.
His sincerity and commitment to the community is shown as an active supporter of a number of Charities, as well as serving on The Boards of The Mississauga Sports Council and the Living Arts Centre.
CHUCK TALKS CANDIDLY & PROFESSIONALLY ON TOPICS SUCH AS:
Choices
"Life is a sum of all your choices." - Albert Camus
Empowering your life in every situation, Chuck speaks to embracing life's choices with optimism.
"Life Is A Sum Of All Your Choices"

"Whatever The Mind Of Man Can Conceive And Believe, The Mind Can Achieve"
Undefeated Spirit
"Whatever the mind of man can conceive and believe, the mind can achieve." - Napolean Hill
People, who build successful teams, never forget that every person on a team has a role to play, and every role plays its part in contributing to the bigger picture. Chuck gives audiences the seven keys to master the winning edge.
"The Undefeated First Time Supervisor/Manager"

"Undefeated Leadership"

"Undefeated Teamwork"

"The Undefeated Follower"
Inward Outward Upward
"Whether you think you can, or think you can't - you are right." - Henry Ford
No matter what position you play in sport, business or community, someone counts on you to deliver. Chuck speaks to how you can be a powerful contributor in every position you play.