Kelley Keehn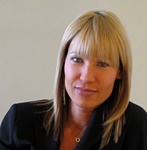 Kelley has been a successful investment professional, retirement planner and speaker for over a decade. Lecturing to groups large and small, originally her presentations addressed hard-line financial issues such as investment, tax, financial, estate and retirement planning. During her speaking years, she realized that her role as an educator was similar to that of an architect designing a large office tower. Would you start your plans for building such a tower with deciding on the doors and windows? Of course not. Kelley found that her previous education topics, albeit important, focused on an individual's "doors and windows," and determined that most participants needed foundational financial planning, and brought her talks back to the basics. Early in her career she began to study the underlying principles of wealth. Her continuous research was first taught in her stunningly effective Prosperity Factor courses. Now, for the first time, these principles and strategies have been captured in her first book, The Prosperity Factor; a fun, practical guide to the psychology of money.
At the young age of 21, Kelley Keehn was already overseeing $300 million dollars in assets for one of Canada's international banks. Her innovative training programs and strategies were taught to each branch manager along with other bank staff. In essence, she was the Professor who taught some of the most leading-edge strategies to senior staff. Kelley personally advised clients with portfolios ranging from half a million to over ten million dollars. Kelley has been responsible for training the branch staff at two major Canadian financial institutions.
Wanting more, Kelley opened Keehn Financial in the year 2000. During her years at the banks, Kelley had become disenchanted with their two-tiered approach. She vowed that she would offer the same advanced strategies to people from all walks of life, thus giving all of her clients an equal opportunity to build for their futures. Her clients appreciated the peace of mind that came from knowing that their goals and dreams were her top priority. In the summer of 2005, Kelley merged Keehn Financial with Taylor Financial Group.
Kelley's first book, The Prosperity Factor was released in March of 2005 and within a month, reached the Edmonton Journal's top sellers list. Her second book, The Woman's Guide to Money, will be nationally released in March of 2006. She is currently working on a series of books that will be available in late 2006. In her books and courses, she teaches individuals and financial professionals how to solve money problems with a two-part system. First, an introspective look at how a person views money and their emotional attitudes towards it. Second, she takes readers and course participants through a series of fun and effective money and banking games that can be played for a lifetime of financial ease.
In addition to writing, Kelley now coaches and educates financial professionals on the principles of "foundational financial planning". Kelley has received hundreds of thousands of dollars of free press coverage and has developed a workshop for financial professionals that teaches them the secrets of building credibility using the untapped resources of the press.
Kelley is a member of CIEPS (Canadian Initiative for Elder Planning Studies) and has recently be asked to join the faculty of the EPC (Elder Planning Counselor) program. You can find her lecturing across Canada with CIEPS and with their advanced seminar company, Pro-seminars.
Kelley is a regular columnist with Alberta Husband and Wife Magazine, The Edmonton Chamber of Commerce News and is a regular guest on television and radio shows across Canada.
Kelley has been nominated for the Global Television's Woman of Vision, the YWCA Woman of Distinction Award and the Rotman's Woman Entrepreneur of the Year Award, is a board member of the Edmonton Apartment Association and dedicates countless hours of her time to charitable efforts.