OUR SERVICES | UPCOMING SEMINARS | SEMINAR CALENDAR | EZ REGISTRATION | SEMINAR AGENDAS
LAS VEGAS | ATTENDEE COMMENTS | SELF STUDY CHOICES | DO YOUR SELF STUDY
EVENT SPEAKERS | FAQ | USEFUL LINKS | CONTACT PRO-SEMINARS
We GUARANTEE that you will pass your exam and receive your certificate for credits.
Pay ONCE for the course. If you fail retests are free until you pass.
WOW... now that's a pass guarantee!

NEW CE CREDITS REQUIRED - Mutual Funds Dealer Association (MFDA)
Cycle 1 - December 1, 2021 and ending November 30, 2023
Under the NEW Continuing Education (CE) program, MFDA advisors must earn 30 CE credits within each two-year cycle. These credits comprise eight business conduct credits (including ethics), 20 professional development credits and two MFDA-created compliance credits.
According to MFDA, if courses are already "Approved & Accredited" by the Chambre de la securite financiere (CSF), FP Canada or IIROC, Pro-Seminars is automatically "Approved & Accredited" by the MFDA. We are instructed to use that accreditors approval number for the MFDA CE credit program.
Upon successful completion of the course, MFDA advisors can enter either the MFDA Activity #, or the course title into their MFDA CE portal.
For further guidance and information, please refer to the following: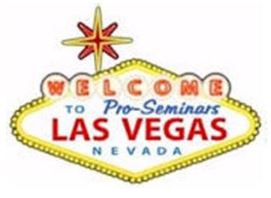 DID YOU ALSO KNOW - that you can receive 11 Professional Development CE credits by attending the 21st National Advisors Conference in Las Vegas, NV August 22-24, 2022, and we will give you an additional year to complete up to 19 additional CE credits for a total of 30 MFDA CE credits.
This has been approved by IIROC ID # 22-0617P specifically for Pro-Seminars use for MFDA Advisors.
Check out all the information and REGSTER TODAY here - 21st National Advisors Conference Information